DAVUS PUBLISHING has something for everyone.
From the award winning novel "Sarah's Journey" to affectionately researched non-fiction books, you'll find yourself immersed in places and times, filled with characters that spring to life in books that are in the 'Hard-to-put-down' category.
Whether you're into romance,suspense, political intrigue, historical events or carefully researched study reference, you'll find it here.
My name is David Beasley. I have a passion for writing that has resulted in the publication of more than 30 books. It is my goal to present the reader with both entertaining and thought provoking subjects which hopefully brings enjoyment to their daily lives. Browse through the site and perhaps you too, like many others, will find something that sparks your interest.
For an interview with David, see http://www.bragmedallion.com.
For the MAJOR JOHN RICHARDSON NEWSLETTER click on David's Blog.
BOOKS OUT OF PRINT THE FOLLOWING TITLES CAN BE ORDERED AS EBOOKS ONLY: CHOCOLATE FOR THE POOR, HAMILTON ROMANCE,[NOTE; FOR THE 150TH CANADIAN BIRTHDAY]
FOR THOSE WHO LIKE THE PRINTED BOOK TO READ, I SUGGEST YOU FIND SECONDHAND COPIES BY INTERNET ON AMAZON, ABE BOOKS, AND ALIBRIS.
---
Time to pick up and read a good book!
Chase away the winter blues and relax with a good book. There's something for everyone in the Davus Publishing selection of fiction and non-fiction books.
---
Announcements
Some of David's books are now available in ePub and PDF formats.
Visit the eBooks page for more info and downloads.
SINCE BOOK STORES CLOSED IN SIMCOE, SOME OF DAVID'S BOOKS ARE SOLD AT the FOX AND FIREFLY BOOKSHOP, NORFOLK ST N, SIMCOE and BEACH READS BOOSTORE 230 St George Street, Port Dover, ON
Davus Publishing has moved to 7-190 Argyle St, Simcoe ON N3Y 0C1 email: davuspub@gmail.com The Buffalo address is no longer viable
POSTAGE. $10 PER ITEM., EXCEPT FOR SLIM ITEMS SUCH AS WESTBROOK AND THE CASE OF THE VANISHING PRAIRIE WHICH ARE $5.
DAVID BEASLEY WILL SPEAK ON THE FENIAN INVASION OF 1866 TO THE NORFOLK HISTORICAL SOCIETY ON SATURDAY APRIL 9, 2022 AT 2 PM AT THE NORFOLK GOLF CLUB, 200 ARGYLE ST, SIMCOE. ALL WELCOME.
John Parr's THE CASE OF THE VANISHING PRARIE received praise from Lucas of Winnipeg—"I loved reading your book. I loved the amount of russels! It made me laugh. I figured out Dr. Acula before my mom! Dr. Acula— Dracula. Thank you Mr Parr. PS What happened to the mansion? THIS LETTER WITH ILLUSTRATIONS IS A GOOD RECOMMENDATION THAT YOUHG PERSONS WILL ENJOY THE BOOK.
---
Interviews

The Hearthside Hearings
"David Beasley: In his own words"
Presented in several parts, this presentation can now be seen on YouTube. Click the parts below to view.
Part 1, Part 2, Part 3, Part 4, Part 5

The following are Extended versions of the interviews: Part 6, Part 7, Part 8
---
Self-Publishing
As a self-publishing author, David R. Beasley, like many other authors, finds himself in a constant struggle to compete with industry giants that have the funds to market and convince the public that their books are the only ones they should read. One only needs to read a few self-published books to realize there's a ton of extrordinary talent being held back by unfair rules and politics. Follow David in his quest for fairness....
---
Click the links below for some additional info on..
Sarah's Journey or Clay Edgar Spohn
and Douglas MacAgy (Including the unpublished essay "Duchamp as a critic").
In the entry for McKee Rankin and the Heyday of the American Theater under non-fiction, the reader will find a list of all the theatres and roles associated with McKee Rankin in PDF form and an Index to the Endnotes in the book.
---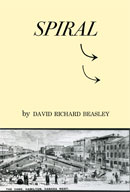 Introducing...
SPIRAL
The decline of a prominent family owing to alcoholism and impoverishment in Hamilton Canada in the early 1850s leads to threats of suicide in 1873 when a young girl is denied her inheritance. The story is set against problems imperiling the city such as crime, cholera, financial collapse and legal malfeasance. The courage and reliability of another member of the family help rescue its reputation and contribute to the restoration of the city's prosperity.  MORE...
---


THE CASE OF THE VANISHING PRAIRIE
A comic addition to the classic Sherlock Holmes detective tales.
Dr. Watson, long-time companion of Sherlock Holmes, leaves the renowned super sleuth to strike out on his own.
Seeking a quiet life in the Old West, he finds himself engulfed in a series of comic disasters.
Written by Author John Parr. MORE...
---