DAVID RICHARD BEASLEY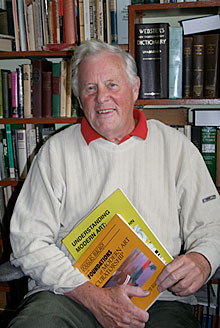 Born in Hamilton, Ontario, David Richard Beasley graduated from McMaster University with a B.A. in History and Literature. He spent five years in Europe working, studying and writing, and 35 years in New York City where he was a research librarian at the New York Public Research Libraries and president of the New York Library Guild, AFSCME Local 1930, an experience which formed the basis of four of his books, How To Use a Research Library, retitled in Canada as Beasley's Guide to Library Research and three detective novels.
He wrote his First novel in Bonasola, Italy, a section of which is the novella 'Caravetti' in Aspects of Love. He wrote the anti-establishment novel Hamilton Romance while living in Vienna, Austria. Its twenty year-old protagonist criticizes Canadian society as it was in 1945 while trying to find his way in a changing world.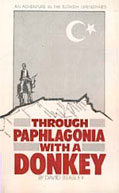 Having met in Vienna an Anglo-Burmese girl, who worked in the preparatory mission opening the Atomic Energy Commission before returning to the United Nations in New York City, Beasley finished his year of teaching in a Realgymnasium, traveled through a wild area of Turkey with a donkey, and came to marry her in Manhattan. While waiting for his green card, he wrote Through Paphlagonia with a Donkey; an Adventure in the Turkish Isfendyars and a metaphysical novel based in Vienna, That Other God.
He taught history in a parochial school and wrote plays and dramatic skits, only three of which were done by Mavor Moore on CBC radio.
Life in Manhattan in the 1960s was exciting - when the art world moved there from Paris and San Francisco, when national leaders such as John F. Kennedy, Nikita Krushshev, Fidel Castro, and Harold Macmillan came to the United Nations and entertainers such as Frank Sinatra, Igor Oistrakh and Rava Shankar entertained the staff under Dag Hammarskjold, when the economy hummed and the "new" was happening alongside the sexual revolution and protests against the war in Vietnam.
After writing Pagan Summer, about students working in a summer resort in the Canadian Rockies, and being disappointed at the aversion of publishers for works with Canadian content, he researched for years what became his first published book The Canadian Don Quixote; the Life and Works of Major John Richardson, Canada's first novelist to establish that Canada had a literary tradition and that its first writer, long forgotten, wrote brilliant novels. Written to encourage Canadian presses to form and to prove that Canadian writing was worth publishing, the biography appeared during the awakening nationalist years of the 1970s. He spent so much time in the New York Public Research Libraries that he decided to become a librarian and earned an MLS degree from Pratt University in Brooklyn.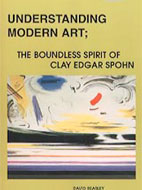 After organizing a union for library employees and becoming its first president, Beasley studied economics at the New School for Social Research to help him in his union work, but, after earning a Masters Degree in the neo-classical, he became fascinated with Marxian economics and earned a PhD. This knowledge led to the writing of Who Really Invented the Automobile? Skulduggery at the Crossroads, which tells the political-economic history of the automobile and its perfection by Goldsworthy Gurney in the 1820s through to its production in France of the 1890s. He then turned to writing novels and biographies, which included a biography of his closest friend, the great artist Clay Spohn, [Understanding Modern Art; the Boundless Spirit of Clay Edgar Spohn], who died in 1977. He spent years researching a Canadian actor, McKee Rankin, and discovered him to be a superb actor, actor-manager, playwright, director and one of the driving forces in the development of the North-American theatre. His book on the subject is actually a biography of the theatre in all its aspects and a monumental work.
Dr. Beasley and his wife Violet returned to Canada in 1992 to live in Simcoe, Ontario, where he fits in as much tennis and squash as he has time for.
Dr. Beasley's latest historical novel Violet's Flight combines the memories of his first wife's childhood in Burma with the escape over the mountains to India from the invasion of the Japanese in 1942. The clandestine guerrilla actions, life under the Japanese and the battles fought by the return of the British and Americans in 1944 tell a little known story, called 'unique' by a reviewer.
Violet Beasley left a manuscript which Beasley published after her death: "The Role of Memory in the Poetry of Alfred Lord Tennyson", a brilliant contribution to the study of memory in the creative process.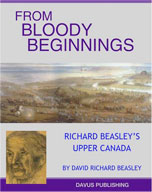 David Beasley's most popular book to date is Sarah's Journey concerning a slave who escaped with three small children from Virginia to Upper Canada in 1820. Catching up in popularity is his From Bloody Beginnings; Richard Beasley's Upper Canada, a creative non-fiction set in the voice of his great, great, great grandfather, Richard Beasley, first settler at the Head-of-the-Lake [now Hamilton, Ontario]. It narrates the events and personalities from before the American Revolution in New York State through the settlements, politics, wars and rebellions in Upper Canada [later Ontario].

David recently issued Major John Richardson's A Canadian Campaign, his memoir as a boy soldier in the War of 1812, a vibrant work which joins the Richardson novels that Beasley has republished. It will be welcomed by all those commemorating the war in many venues in the U.S. and Canada.
For the MAJOR JOHN RICHARDSON NEWSLETTER click on DAVID'S BLOG.
In November 2012, the Governor-General of Canada awarded Dr. Beasley with the Queen Elizabeth II Diamond Jubilee Medal for his writings contributing to history and politics nationally and internationally.
---