The Watercolours of Charlotte Hills Beasley
Introduction by David R. Beasley, Commentary by Jim Cruise

Publlisher: Davus publishing
ISBN: IS 0-915317-14-1
PRICE: $90.00 Cdn & US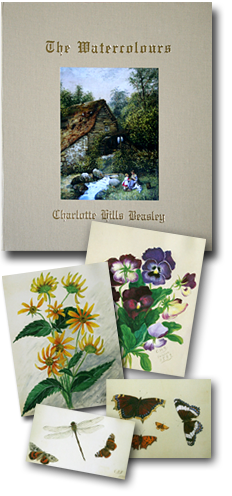 These watercolours of flowers, floral arrangements, and insects were painted between 1879 and 1882. They were pasted into a Scrapbook that was rescued by James E. A. Beasley on a pile of objects being auctioned from the estate of Annie Rice Davis Beasley in Hamilton, Ontario in 1938. The Scrapbook lay in a cedar trunk for years in the upstairs room over a garage at "The Pines", the Beasley country home on New Street, Burlington and came into the possession of David Beasley, who delighted in the artistry and beautiful colours of the paintings. They were painted by C.H.B., Charlotte Hills Beasley.
Charlotte Hills was born in Hamilton, Ontario in 1835 in a family that had come to New England in the 1600s and migrated to Canada in 1812. Her father Horace and his brother Albert were early builders and architects in Hamilton. When Charlotte was orphaned at age 14, she became the ward of Alexander Carpenter who built Rock Castle, where she lived till her marriage to Thomas Beasley, third son of the City Treasurer Henry Beasley. Thomas was City Clerk and Secretary of the Board of Education for over fifty years. Charlotte began an extensive garden behind their house on Main St. East, which attracted crowds of visitors and was carried on by her son, Alexander, who inherited his mother's love for flowers and plants. Charlotte died in 1906.
Dr. David Beasley, who wrote the Introduction, has written two books on art: Understanding Modern Art; the Boundless Spirit of Clay Edgar Spohn and Douglas MacAgy and the Foundations of Modern Art Curatorship. He wrote the definitive biography of Canada's first novelist, the biography of Canada's renowned actor-manager, a political-economic history of the automobile, a best-selling book on library methodology, a travel journal through Turkey, and several novels ranging from detective to historical, one of which, Sarah's Journey, won the Hamilton and Region literary award for best fiction. His latest book, Canoe Trip, is for young adults. Charlotte Hills Beasley was his great-grandmother. He lives in Simcoe, Ontario.
Dr. Jim Cruise, who has identified the flowers in each watercolour, is one of the most knowledgeable persons in the field of botany. He was Dean of Arts and Sciences at the University of Toronto and Director-CEO at the Royal Ontario Museum, Toronto. He lives in Port Dover, Ontario. He wrote:
"Charlotte Beasley was, without question, an extremely gifted painter. Her flowers are drawn with such accuracy and care as to make identification in most cases positive."
This book has been bound so as to allow one to take out pages and frame them.
The edition is limited to 200 copies.
---
REVIEW IN THE BOTANICAL ARTIST - DEC. '07
Reviewed by Susan Rubin.
In the search for the most detailed, accurate, composed, and perfect, we often forget that so many paintings were produced by untrained observers of their gardens and surroundings, simply expressing their admiration for nature and the beauty of the flowers in their view. Charlotte Hills Beasley was just such an artist, and her wonderful, spontaneous paintings find an audience in this newly published collection of her work.
"Charlotte Hills Beasley was my great-grandmother." The opening line of the introduction speaks to the intensely personal nature of the publication of this charming book. Dr. David Beasley, the writer and publisher, introduces us to this delightful Victorian lady and shares his family's legacy of botanical art. He chose to publish the paintings as a portfolio, with each high-quality 11x14" print easily removed for framing. Apart from the introduction and brief comments from Jim Cruise, the botanist who identified the plants, the paintings speak for themselves. Charlotte Hills Beasley (1835-1906) took up painting in 1879, and completed over fifty floral works and nine of insects by 1882. She turned her interest to depicting the individual plants in her extensive gardens. Noted Canadian botanist Jim Cruise says, "Charlotte Beasley was, without question, an extremely gifted painter. Her flowers are drawn with such accuracy and care as to make identification in most cases positive." With no training in either science or art, she shows a vivid use of color and a flair for observation of detail that is truly remarkable. Her attention to venation and handling of difficult flower forms like Iris germanica demonstrate this dedication to her subjects.
The reader is in for a treat with these paintings. A little bit art appreciator, a little bit detective, I found myself puzzling over Charlotte's materials and methods. Some of the pieces are transparent watercolor, like the Convolvulus japonica, showing a delicacy of washes and blending. Others, like the Trillium sp., show an application of watercolor as solid as acrylic paint, with an abstract depiction of the garden floor. What we may lose in scientific precision, we gain in exuberance of color and mass. I appreciate her adventurous compositions, as in "Convolvulus, Purple Wake Robins" in which she pushed the subject off the edge of the page in three directions, and the almost abstract "Indian Pipe," a stark white plant shown against a winered background. The last nine pages of the portfolio present a special treat. Paintings of butterflies, bees, dragonflies and spiders are carefully rendered and reminiscent of the early sketches by Charlotte's contemporary, Beatrix Potter. My first impression of the portfolio was that the paintings were somewhat primitive, lacking the sophisticated perspective and technique of other artists. As I looked more carefully, I saw beautiful paintings by a self-trained artist with a genuine appreciation for her subjects. This book is moving tribute to a dedicated botanical artist, and an inspiration to remember why we do this work.
The Botanical Artist Volume 13, Issue 4- December 2007 Page 17
---