Spiral

David Richard Beasley's new book 'Spiral' focuses on one family's role in Hamilton history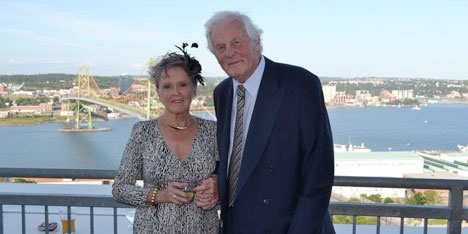 WHATSON May 15, 2017 by Julia Lovett Flamborough Review
David Beasley and his companion Michelle Rustan during a trip in Halifax. Beasley's latest book Spiral is now available through davuspublishing.com.
In the mid-1800s, a man steps into a bar in a small village. That bar, part of the North American Hotel, was situated on a street corner in Waterdown and the man who stepped inside was Richard George Beasley. He and his family are the focus of David Richard Beasley's new book Spiral.
"It's really a look into depression and so forth, the sort of thing that the world is worried about today, although quite by coincidence, I didn't plan it that way," said Beasley.
The book opens with Beasley (Baisley in the book), a former partner in a law firm and already inebriated, walking into the bar of what would later become the American House. Beasley said that as the reader goes through the first chapter, they discover that Beasley, who owned land in west Flamborough, was a man who had seen perhaps too much of the City of Hamilton's dark underbelly and it has taken its toll.
"It's a story that I heard when I was 10 years old and it's kept in my mind all these years, the back of my mind and finally I had time to look into it," explained the author.
"I looked into court records and that's where the story was revealed."
The story takes place mainly in Hamilton and gives the modern reader a glimpse into the lives of those who walked Hamilton's streets before. It's a tale of a family losing their prominence due to alcohol and eventually leads to the death of one daughter, Agnes, after she is denied her inheritance. Through Beasley's research, the story comes alive against a backdrop of cholera, prostitution, corruption and financial problems. But it's not all doom and gloom, as the characters go on a journey through to the other side.
"Thomas Beasley, the city clerk for 52 years … he was my great-grandfather. Well, he is the fellow who really tries to put everything right and does win out. Saves the city from bankruptcy," Beasley said.
According to the author, Spiral was a natural progression after his previous Beasley history, From Bloody Beginnings: Richard Beasley's Upper Canada, which told the story of the role of Richard George's father, Richard Beasley, in the development of the area.
"It gives you a point of view about the American Revolution which most Americans are not familiar with," he said.
"That is a book that sort of sets the tone for Upper Canada from which this book … seemed to develop at a later time."
As for this story, Beasley wrote it because he was curious about the elder Beasley's granddaughter and he wanted to understand depression.
"I had to get to that through the circumstances that led to (Agnes) being refused her inheritance, the estate left by her father to her."
He explained that as she grew older and became more independent, she was difficult to manage and would "break windows and storm around" and given the time she grew up in, "a person who rebelled against the restraints posed on women in those days, she was regarded as crazy."
Throughout his story, Beasley draws parallels between issues of today such as break-ins, woman abuse, child abuse and murder, and shows them in the context of how those same crimes affected the city and surrounding areas in the 19th century.
"I think it's the depression, the depression that leads to suicide and what causes that and the social dimension, the social background for all this," he said, adding that he tries to answer that question while implying that the atmosphere and society Agnes grows up in plays a part in her death.
"She was rebellious against the role that women had to play.
Spiral, or any other of Beasley's books can be ordered online at Davuspublishing.com.
by Julia Lovett
Title: Spiral
Author: David Beasley
Genre: Fiction/General Fiction (including literary and historical)
Audience: Adult
Word Count: 80,253
Assessment:
Plot: Beasley's plot is well constructed and hurtles forward at a breakneck, thrill-seeking pace—which means readers will be engaged until the very end.

Prose: Beasley's prose is free of frills, but also clean, concise, and suited to the material.

Originality: Spiral presents readers with a historical and historically-inspired drama that includes a little bit of everything, making for an engaging and fresh story.

Character Development: The strength of Spiral lies in Beasley's attention to character development and each character's intricate backstory, and the way they interact and cross paths over the course of the novel.
Score:
Plot/Idea: 6
Originality: 7
Prose: 5
Character/Execution: 7
Overall: 6.25
Report Submitted: August 25, 2017
FROM THE LOYALIST GAZETTE
Author: David Richard Beasley Publisher: Davus Publishing, Simcoe Ontario © 2017 Soft cover, 215 pages ISBN: 978 0 915317 57 8 Price: $12.00 Canada and USA. taken online at www.davuspublishing.com Reviewed by Grietje R. McBride UE, B.Sc., Gazette Review Editor
Stories told by family elders and snippets of childhood memories can shape our curiosity to explore private and public records in order to understand and record the fortunes of our Loyalist ancestors. The author, David Beasley, is descended from the first settler in the Head-of-the-Lake, now Hamilton: Richard Beasley UE. David is fortunate that many records still exist revealing his ancestors' involvement in landholdings, as well as court, civic and government documents. As the title suggests, this historical fiction follows the fortunes of a family whose first generation acquired great wealth and, through succeeding generations and economic downturns in Hamilton, gradually lost it. The reader will appreciate the skill of the author in describing historic Hamilton over a period of approximately twenty years. It is soon evident that David Beasley has an extensive background in local history and geography that infuses his novel with historical facts. The people who walked the streets, dealt with cholera and consumption, faced injustice or acted in selfinterest, all leap off the pages in Beasley's pre-confederation world. Superintending the policing of a city daily increasing in population, crime and gangs, proved an overwhelming task that led to the downward spiral of Richard George Beasley's life and his ability to manage his affairs. Others were quick to take advantage. Enter Agnes, Richard's motherless infant daughter. As the story unfolds, the reader is caught up in the drama of her life. As there is no one who can care for her, he gives over her care to a trusted lawyer and friend. There is an inheritance involved and the story gets very interesting from there. Upon reading this book, other historical themes emerge that may intrigue the reader to do further research: the impact of the end of the American Civil War on Upper Canada, the Fenian Raids and the rise of railway building and investment, the Battle of Ridgeway and the court-martial of Colonel Booker, to name a few. One may also be surprised at the fluid border between Canada and the USA, in which criminals fled justice in 19th century Canada, although not necessarily with impunity. Against this backdrop, David Beasley explores the restrictive Victorian culture that influenced the life and options of this struggling young woman. This was a time when depression and mental health were very poorly understood. If the novel has not captivated the reader before, the drama that ensues, as family members try desperately to help Agnes, is sure to draw you in. The characters in this novel were once living members of Beasley's family and, for that reason alone, this historical fiction is well worth your time. The only suggestion I would add is that a family tree would enhance the understanding of family relationships. Spiral may be ordered online directly from the publisher at davuspublishing.com